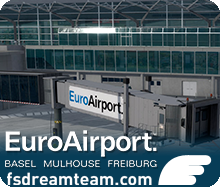 Download for MSFS
Download for P3D 4 or 5
---
Purchase Method
EuroAirport Basel Mulhouse Freiburg is a Try-Before-Buy product. You will freely download a Demo version, that will work in full for 5-6 minutes at time. The Demo can be unlocked by purchasing the product, directly inside the simulator. Refer to the fsdt_install_guide.pdf document ( under the Addon Manager\Fsdreamteam folder ) after the installation for more details.
The MSFS version doesn't have a Trial, the installer will check if the license is active, otherwise it won't proceed.
Payment method
It's possible to buy using a Credit Card, compatibile with VISA, Master Card, American Express or JCB circuits.
PayPal is also supported.
Buy on the Web
Download
with FSDT Universal Installer
---
Standalone Addon Manager
The Stand-Alone Addon Manager is no longer required. Just run the FSDT Live Update from the Desktop, to keep all your FSDT products constantly updated.
EuroAirport Basel Mulhouse Freiburg for MSFS and P3D4/5
EuroAirport Basel Mulhouse Freiburg ( see the Wikipedia article here) EuroAirport Basel Mulhouse Freiburg is represent an airport bordering 3 countries in Europe: France, Switzerland and Germany. Made from the ground up in full PBR, to achieve the most realistic looking representation of this airport to date.
Features:
A true next-gen graphic product, completely made in PBR.
Fully rolling terrain and precise sloped runways based on their real altitude profile ( MSFS only ).
Static REGA helicopter parked at REGA base ( MSFS only ).
Hundreds of Dynamic Lights in the MSFS version, all individually placed.
P3D Dynamic Lights with two levels of complexity controlled by the in-game YouControl menu.
Highly detailed custom jetways, using SODE in P3D and the latest SDK in MSFS.
GSX Level 2 free to use at this airport in P3D.
Complete GSX Level 2 integration, including custom Pushback routes on each parking ( P3D only ).
Animated passengers inside the terminal, visible from the cockpit. Can be optionally disabled ( P3D only ).
Many animated custom ground vehicles.
Fully 3d taxiways lighting.
LaBelvedere spotting place with animated people.
Complete four season textures in P3D, with snow effects in Winter in MSFS.
System Requirements:
This scenery works ONLY in Prepar3D 4.4 and above. Version 4.5 is suggested and Prepar3D V5 is fully supported. The MSFS version works with MSFS 2020. The only officially supported OS is Windows 10. A video card with 8GB of VRAM is required to use the full scenery resolution. GSX Level 2 is required, and can be used for free at this airport. GSX is required, and it's completely FREE to use here.
Product Cost
The standard product cost is 19.00 USD (plus your local VAT rate, if you live in the EU, or sales Tax if applicable).
Use both P3D and MSFS with a single license!
The license is shared between the P3D version and the MSFS version, buying the product will give you the ability to use in both simulators.
---
Screenshots