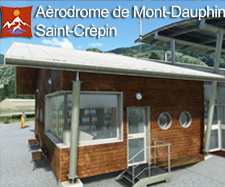 ---
Purchase Method
LFNC Mount Dauphin - St. Crepin airport can be purchased on our Web store on MyCommerce/Digital River. The download link and the Activation key will be provided after purchase.
It's possible to buy using a Credit Card, compatibile with VISA, Master Card, American Express or JCB circuits. PayPal is also supported.
Product Cost
The product cost is 9.99 USD (plus your local VAT rate, if you live in the EU, or sales Tax if applicable).
System Requirements:
This scenery works ONLY in Microsoft Flight Simulator ( MSFS 2020 ), and requires Window 10.
Buy on the Web
Download
with FSDT Universal Installer
LFNC Mount Dauphin - St. Crepin Airport MSFS 2020
The Mount Dauphin - St. Crepin aerodrome ( ICAO code : LFNC ) is a civil aerodrome, open to public air traffic, located 4 km NNW of Mount Dauphin/Haute Alpes, ( Provence-Alpes-Côte d'Azur region, France ). It is used for the practice of leisure and tourism activities ( light aviation, helicopter and gliding ).
Features:
Highly detailed models in full PBR
Fully native MSFS scenery, not a conversion
Animated people around the airfield
Full Dynamic Lights, with custom behaviors depending on weather and time
Sloped Runway
Many buildings modeled with full interiors
Lots of static gliders with local liveries
Custom local vehicles, Winch launcher.
Added extra detail in the surrounding areas, roads, and vegetation
Screenshots