Purchase Method
Dallas/Fort-Worth is a Try-Before-Buy product. You will freely download a Demo version, that will work in full for 5-6 minutes at time. The Demo can be unlocked by purchasing the product, directly inside Flight Simulator. Refer to the fsdt_install_guide.pdf document found under the fsdreamteam folder under the FS folder after the installation for more details.
Payment method
It's possible to buy using a Credit Card, compatibile with VISA, Master Card, American Express or JCB circuits.
PayPal is also supported.
Download for FSX/P3D
Download FS9 Version
Buy on the Web
---
Standalone Addon Manager
The Stand-Alone Addon Manager is no longer required. Just run the FSDT Live Update from the Desktop, to keep all your FSDT products constantly updated.
Dallas-Fort Worth for FSX and FS9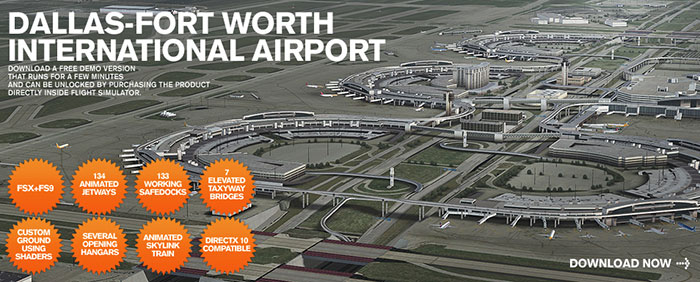 Dallas-Fort Worth ( see the Wikipedia article here ) is a scenery developed for Microsoft Flight Simulator X (FSX) and Flight Simulator 2004 ( FS9 ). It's has been created with great attention to visual quality and performance, using the latest available programming techniques, both in FSX and FS9.

The product is sold as 2 Products in One. This means, by buying one version, you will automatically get the other for free, since activation and serial codes are shared between FSX and FS9.
Features:
Fully customized ground and runways in high resolution, both in FSX and FS9.
NEW Ground Shaders technology with 100% "Pure FSX" code.
NEW Bump mapping and Specular mapping on ground, DirectX10 Compatibile! (FSX only)
Animated custom ground vehicles, and the Skylink Train. (FSX only)
Elevated taxiways bridges, fully compatible with AI airplanes.(FSX only)
Fully 3d taxiways lighting, custom runway lights and PAPIs. (FSX only).
Intensive use of LOD techniques in order to offer the best possible performances.
High resolution building textures.
134 Jetways animated with inverse-kinematics in FSX.
NEW ParkMe™ feature: working SafeGate docking systems with automatic airplane recognition, and parking accuracy evaluation ( FSX only ), available on 133 parking stands!
NEW YouControl™ feature: custom airport actions with easy on-screen menu to trigger animations, events,etc ( FSX only ).
AES support in FS9 planned.
System Requirements:
FSX+SP2 minimum, or FSX+Acceleration Pack or FSX:Steam Edition, or Lockheed Martin Prepar3D ( the latest version of every supported major release, for example 3.4 in P3D4 or 4.4 in P3D4, or 5.2 in P3D V5 ). Windows 8.1 is the minimum supported OS.
---
Screenshots