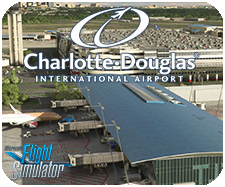 ---
Purchase Method
Charlotte Douglas for MSFS 2020 can be purchased on our Web store on MyCommerce/Digital River. The download link and the Activation key will be provided after purchase.
It's possible to buy using a Credit Card, compatibile with VISA, Master Card, American Express or JCB circuits.
PayPal is also supported.
Buy on the Web
Download
with FSDT Universal Installer
Charlotte Douglas V2 for MSFS
Charlotte Douglas ( see the Wikipedia article here) it's a scenery developed for Microsoft Flight Simulator (2020 ). It's has been created with great attention to visual quality and performance, using the latest available programming techniques.

Features:
High resolution building textures, 100% PBR.
The new CLT Terminal.
The new CLT Control Tower.
Custom taxi side and center lights, with Dynamic Lighting.
Use of the latest SDK additions from MSFS Sim Update 7.
Custom navaids objects with up to 9 LOD levels to improve performance.
Full Dynamic Lighting.
Custom Jetways.
Accurate airport layout with all parking positions and taxiway names.
Extensive usage LOD techniques everyhwere, in order to offer the best possible performances.
System Requirements:
Microsoft Flight Simulator ( 2020 ) and Windows 10.
Product Cost
The product cost is 15.99 USD (plus your local VAT rate, if you live in the EU, or sales Tax if applicable). If you bought the P3D version, and upgrade price is available.
---
Screenshots