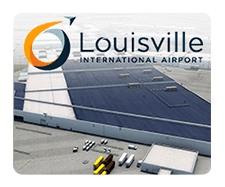 Download for FSX/P3D
---
Purchase Method
Louisville Standiford is a Try-Before-Buy product. You will freely download a Demo version, that will work in full for 5-6 minutes at time. The Demo can be unlocked by purchasing the product, directly inside the simulator. Refer to the fsdt_install_guide.pdf document found under the fsdreamteam folder under the FS folder after the installation for more details.
Payment method
It's possible to buy using a Credit Card, compatibile with VISA, Master Card, American Express or JCB circuits.
PayPal is also supported.
Buy on the Web
---
Standalone Addon Manager
If you want to update the Addon Manager to the latest version, without having to download the whole product again, you can use the Addon Manager Standalone installer.
Download FSX/P3D
Louisville International Airport for FSX-P3D
Louisville International Airport ( see the Wikipedia article here) it's a scenery developed for Lochkeed Martin Prepar3D and Microsoft Flight Simulator X (FSX). It's has been created with great attention to visual quality and performance, using the latest available programming techniques.

The product is sold as 2 Products in One. This means, by buying one version, you will automatically get the other for free, since activation and serial codes are shared between Prepar3D and FSX.
Features:
Fully customized ground and runways in high resolution, DX10/11 Compatible
Custom UPS Worldport Cargo loading system
Complete integration with GSX
SODE Animated jetways with GSX integration.
Animated custom vehicles.
Use of the advanced material properties in FSX/P3D, like bump and specular mapping.
Fully 3d taxiways lighting.
Intensive use of LOD techniques in order to offer the best possible performances.
High resolution building textures.
System Requirements:
Lockheed Martin Prepar3D 1.4 and later, including version 4.1
FSX+SP2 or FSX+Acceleration Pack or FSX:Steam Edition. Windows 7/8/10, 32 and 64 bit editions are supported. A 64 bit OS is strongly suggested.
Product Cost
The product cost is 29.00 USD (plus your local VAT rate, if you live in the EU, or sales Tax if applicable). The price include license to use both the FSX and the Prepar3D version.
---
Screenshots