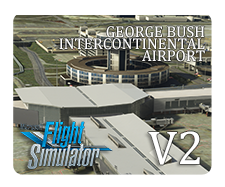 ---
Purchase Method
KIAH Houston Intercontinental Airport can be purchased on our Web store , powered by MyCommerce/Digital River. The Activation key will be provided after purchase. It's installed using the FSDT Universal Installer.
It's possible to buy using a Credit Card, compatibile with VISA, Master Card, American Express or JCB circuits. PayPal is also supported.
Product Cost
The product cost is 9.99 USD (plus your local VAT rate, if you live in the EU, or sales Tax if applicable).
System Requirements:
This scenery works ONLY in Microsoft Flight Simulator ( MSFS 2020 ), and requires Window 10/11
Buy on the Web
Download
with FSDT Universal Installer
KIAH Houston Intercontinental Airport MSFS 2020
Welcome to Houston Intercontinental Airport (KIAH), a premium scenery add-on for Microsoft Flight Simulator 2020 Your virtual aviation journey is about to become more immersive with our meticulously crafted Houston Intercontinental Airport (KIAH) Scenery Add-on.
Our passion for authenticity and attention to detail brings to life one of North America's most dynamic and important aviation hubs. As the second largest passenger hub for United Airlines, Houston Intercontinental Airport, officially known as George Bush Intercontinental Airport, provides service to a multitude of domestic and international destinations.
This bustling airport located in Houston, Texas, USA, stands as the 15th busiest airport in the world, with five passenger terminals and a cargo area spread over an impressive 10,000 acres. Our scenery add-on recreates this expansive airport to the minutest detail, bringing the heart of Texas aviation right into your virtual cockpit. We invite you to experience the bustling runways, taxiways, terminals, and infrastructure that make KIAH a key node in the global aviation network.

Features:
The airport is fully updated to its 2023 status.
Terminal C has been modeled from scratch, boasting full interiors. All gates in this terminal utilize the GSX "Airport walkers" feature, enabling the visualization of passengers within the terminal interiors and during the boarding/deboarding process via GSX.
A comprehensive integration with GSX Pro is implemented, with an included profile featuring more than 1500 custom pushback routes, 49 walk-in gates, and 156 VGDS.
New door automation has been introduced, ensuring all doors at Terminals B and C automatically open/close during GSX-enabled passenger boarding/deboarding. The relevant information panel at the gate animates to display the GSX operation in progress.
All parking positions in the GSX menu have custom friendly names, circumventing the limited naming convention of MSFS by default.
The airport definition file provides high accuracy, with proper parking codes for AI, and has been validated with both FSLTL and FS Traffic.
Full Dynamic Lights are implemented, with a spread of hundreds of light sources across the airport.
Bridges and underpasses are portrayed using the latest high-resolution terraforming technology.
The Skyway Train is animated for enhanced realism.
Taxiway lights are fully customized, with dynamic lighting, including orange/green variations on taxiways intersecting runways.
Most textures are improved and upscaled using AI, and then manually converted to PBR.
MSFS Parallax shaders have been extensively utilized to augment the appearance of buildings without modeled interiors, with almost negligible performance impact.
Choose between 2K and 4K background textures. Open Comparison in new Window
Screenshots