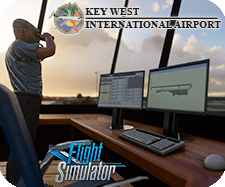 ---
Purchase Method
Key West International can be purchased on our Web store on MyCommerce/Digital River. The download link and the Activation key will be provided after purchase.
It's possible to buy using a Credit Card, compatibile with VISA, Master Card, American Express or JCB circuits.
PayPal is also supported.
Product Cost
The product cost is 9.99 USD (plus your local VAT rate, if you live in the EU, or sales Tax if applicable).
Buy on the Web
Download
with FSDT Universal Installer
Key West International Airport for MSFS 2020
Key West International is a very unique airport due to its history, compact size, and geographic location. Originally called Meacham Field, the airport had its first scheduled flight in 1928. During the WWII era, the airport was used by the United States Army. In 1953, the city of Key West granted Monroe County clear title to Meacham Field. Shortly thereafter, Meacham Field became Key West International Airport. Today, EYW has the ability to safely and efficiently handle a large number of aircraft operations, connecting Key West to the global air transportation system.
Features:
Made specifically for MSFS 2020, not a conversion.
Highly detailed 3D buildings.
Latest generation graphic, using only PBR materials
Several animated people.
Full Dynamic Lighting
Interiors simulated with the MSFS exclusive and fps-friendly Parallax Window mapping
System Requirements:
This scenery works ONLY in Microsoft Flight Simulator ( MSFS 2020 ), and requires Window 10.
---
Screenshots