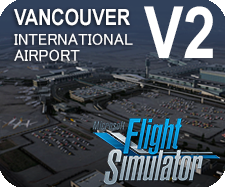 ---
Purchase Method
Vancouver V2 can be purchased on our Web store on MyCommerce/Digital River. The download link and the Activation key will be provided after purchase.
It's possible to buy using a Credit Card, compatibile with VISA, Master Card, American Express or JCB circuits.
PayPal is also supported.
Product Cost
The product cost is 9.99 USD (plus your local VAT rate, if you live in the EU, or sales Tax if applicable). There's a Discount available if you own the 2013 version for FSX or P3D.
Buy on the Web
Download
with FSDT Universal Installer
---
Discount for previous owners
Owners of the version for FSX/P3D can obtain a discount on this product. Instructions will be provided by email.
Vancouver International Airport V2 for MSFS 2020
Vancouver International Airport (IATA: YVR, ICAO: CYVR) is an international airport in Richmond, British Columbia. It is located 12 km (7.5 mi) from Downtown Vancouver. It is the second busiest airport in Canada by aircraft movements (306,799) and passengers (25.9 million), behind Toronto Pearson International Airport.
This is the latest version for MSFS 2020 of the popular FSDT CYVR scenery. This scenery has been converted to MSFS 2020, starting from the FSX version we released in 2013. However, is not a "straight" conversion, and there has been many changes, both due to the changing airport layout, but also to offer specific MSFS features when possible.
Features:
The airport layout has been updated. A whole new section of the main Terminal ( Pier B, Gate 11-28 ) has been modeled, together with the new extension ( Pier A, gate 1-12 )
Due to these changes, lots of parking names has been renamed, to reflect the current situation.
All textures and materials has been improved and converted to PBR, with added normal map details and proper metallic/roughness maps.
Dynamic Lighting has been remade entirely from scratch, using the native MSFS 2020 lighting system, with hundreds of individual light sources.
The background photoreal image has been updated to reflect changes at Piers A and B of the Main Terminal.
All Aprons materials has been remade using the native MSFS system.
All 3d taxi-light fixtures have been remade using the native MSFS system.
Runways have now their correct Slope profile.
Jetways has been all remade according to the latest MSFS 2020 SDK.
System Requirements:
This scenery works ONLY in Microsoft Flight Simulator ( MSFS 2020 ), and requires Window 10.
---
Screenshots